Brian Kennedy/Belfast
Report on Stay in Gropiusstadt
I spent a very fruitful and interesting three weeks in the flat in the early summer.
After arriving I started to explore the area both on foot and by bicycle. This led me to finally knowing exactly where Gropiusstadt began and ended. I documented this by starting outside the block of flats and cycling around the perimeter photographing each street as I went.
My days in the flat started to fall into a pattern. I would get up and walk around the area and at the same time think about my own work. Then I would take the bicycle on the underground and spend some time cycling around the centre of Berlin and visit museums and galleries. In the evenings I would sit out on the balcony and write down thoughts and ideas.
One of the great advantages of being in the flat in Gropiusstadt was having time by myself to just think about my work. On a practical side it was while there that I started to think about making a large installation that would incorporate aspects of German Romanticism and Symbolism. My stay allowed me the luxury of visiting the museums and then thinking through ideas. Since returning I have been able to find a venue for this installation at the new Millennium Court gallery. The gallery and I have received substantial funding from the Arts Council of Northern Ireland to create and show this new work.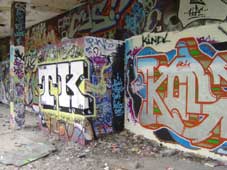 Meeting other artists, travelling to the German Polish boarder to see an exhibition, looking at the what other artists had done during their stay were all interesting. The most important thing for me however was to simply have the time to think, look and work in an undisturbed atmosphere.